Au bas de la falaise à 80 mètres: la rivière du Lot où nous décidons de faire une mini croisière sous quelques gouttes d'eau.
At the bottom of the 80 meters high cliffs: The Lot River. We decide to take a mini cruise despite some rain drops.
Sur le chemin, le moulin écluse d'Aulanac
On the way we pass the Aulanac Mill Dam
Les berges sont nettoyées suite aux orages des jours précédents
The banks are cleaned up following the storms of the previous days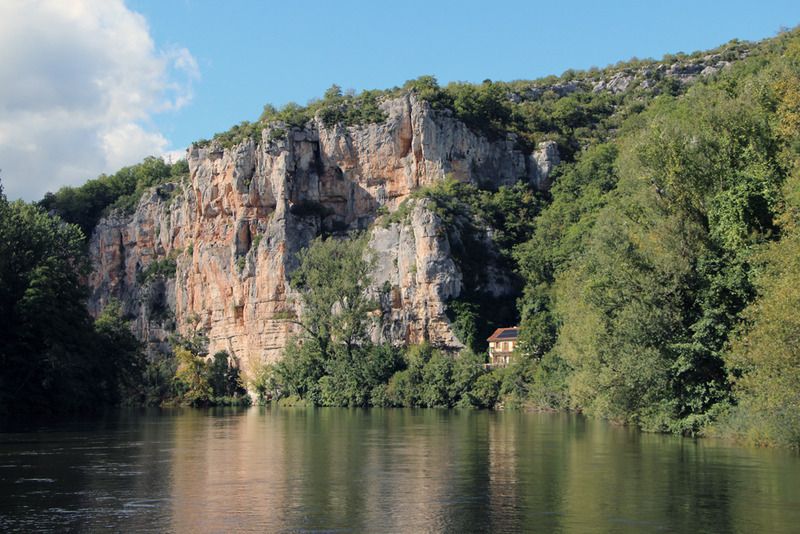 Vue sur les falaises calcaires de Coudoulous
View on the limestone cliffs of Coudoulous
Le lendemain matin le brouillard se lève, nous aussi... La vue est bien belle de notre fenêtre.
Next day the fog clears up and we set off... Such a beautiful view outside our window!
Énigme à l'hôtel, personne n'a pu nous renseigner sur l'utilisation de ce siège: une bassine pour les pieds, un outil de cuisine, un récipient à boisson... un bocal à poisson?
A vous de jouer, je n'ai malheureusement pas la réponse.
No one at the hotel could give us even a hint about the use of this sit: a foot tub, a bidet stool, a cooking container, a beverage container... a fish tank?
Your turn to guess, I don't have the answer.